CASTLE TOUR & THE NORMAN CENTRE
Take a guided castle tour at 10.30am, then visit The Norman Centre museum at 11.30am.
Note:
There is the only one booking time throughout the winter months and no bookings on Tuesdays (until the New Year).
A tour guide will meet you between 10.15am and no later than 10.25am at the front gate ticket office.
The gates to the castle will be closed at 10.30am. Parking is available.
Over 16 are considered Adults. Children under 5 are free.
TICKETS
ADULT: £25.00
CHILD: £14.00
Tickets are only available online and not available from the Ticket Office.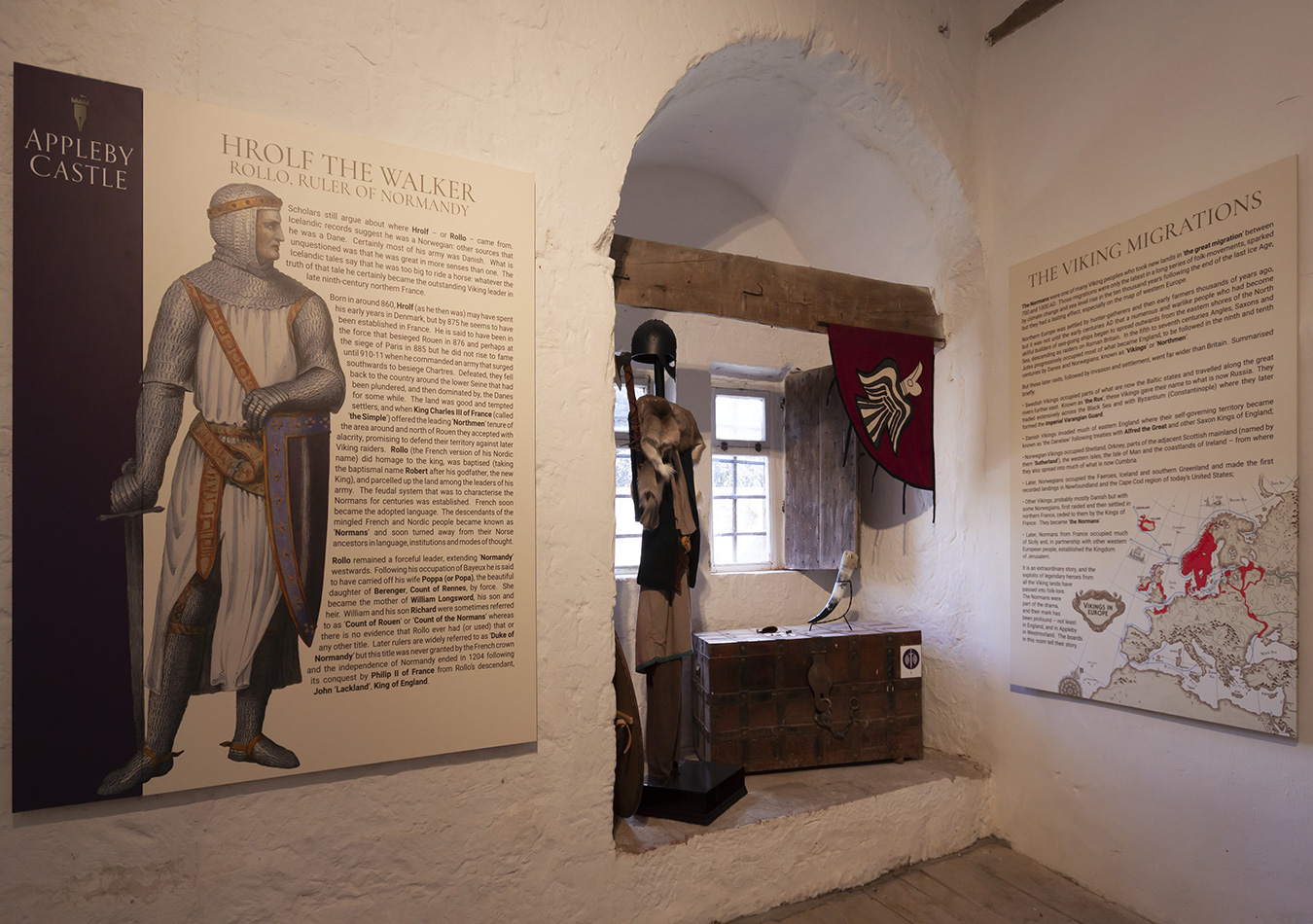 THE NORMAN CENTRE IS OPEN – 

BOOK NOW!
---
Appleby Castle proudly opens THE NORMAN CENTRE, an interactive experience of the Norman occupation intertwined with the history of Appleby Castle. Visitors, families and schools can explore The Norman Centre's 4 floors while enjoying an immersive audio experience and follow an interactive family trail.
The museum will inform about the Keep's Norman heritage and the Castle's history dating back to Roman times. The museum features timelines, historical display boards, manikins and artefacts including limited edition reproductions of the Domesday Books.
BINAURAL AUDIO TRAIL
Explore the Keep with our immersive audio trail narrated by our very own ghost, Caesar.
Produced by award-winning creatives from the film industry, the trail is a family friendly guide to the history of the keep and its inhabitants over the last 900 years.
If you listen well you may even get to meet your ghostly guide!
BEFORE YOU VISIT
The audio trail requires the use of headphones and a mobile phone or tablet device.
Tips:
• Download the App to your mobile / tablet before you visit (links below).
• Make sure your mobile / tablet is fully charged.
• Bring your own headphones.
Note: Handsets and headphones are available for those without a mobile or tablet.
---
PANORAMIC VIEWS
There is a spectacular 360° view from the 4th floor roof with Cumbria on one side and the Yorkshire Dales on the other. Photographs can be taken on the roof top.
---
Note: Because this is a grade 1 listed building there are no wheelchair or pram access.
YOUR SAFETY
The floors are uneven so flat soled shoes only, no flip flops or high heels. The keep has 103 narrow steps on the spiral staircases. Do not attempt to climb the staircase if you are not in good physical health. Infants in slings cannot be carried up the staircases. People with epilepsy and heart conditions should be aware there are flashing lights on the third floor.
IMPORTANT
Children entering The Norman Centre must be accompanied by an adult at all times.